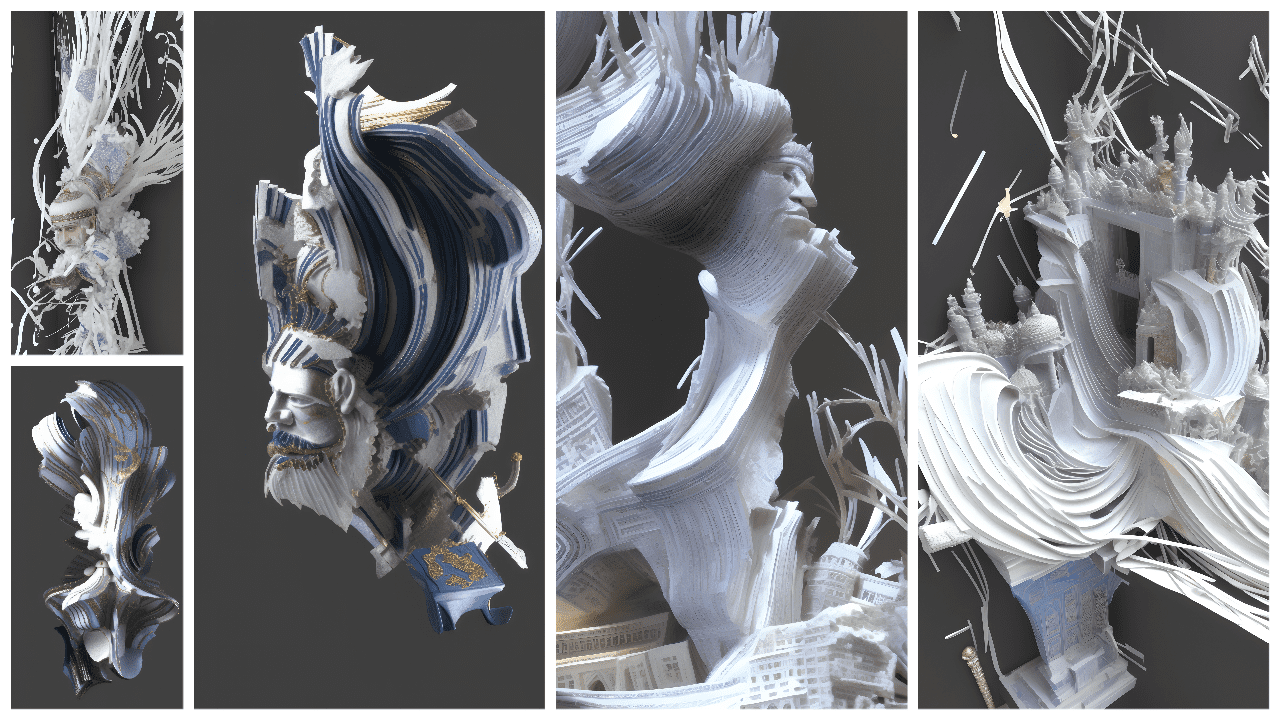 Pre Purchase Available Here
Art Dubai 2023 is set to showcase the work of renowned digital artist Brendan Dawes, who will debut his new series "Persian Dreams" at the event. The exhibition, presented by Gazelli Art House, is part of the fair's New Media section and will feature four screens of mesmerizing and metamorphosing imagery. Dawes has combined visual, linguistic, audio, and dance facets of artistic expression to create this new body of work, which draws inspiration from The Book of Kings, also known as the Shahnameh, an epic poem from Iran.
The Shahnameh recounts a Persian golden age via some 50,000 couplets, written by native poet Ferdowsi between c. 977 and 1010 CE. Dawes' work offers a renewed and digitized interpretation of the epic poem, providing a preservation of mythologies and histories that lend the artwork an arcane and scholarly agency.
The series comprises four distinct parts: Persian Dreams: Heroes, Persian Dreams: Dynasties, Persian Dreams: Creation, and Persian Dreams: Monument. Each section is inspired by different ages of the Shahnameh, and visuals are choreographed to the movements of dancer Charlotte Edmonds, displayed over three uniform screens, while a fourth larger screen draws from the whole.
"I've always felt the promise offered by new technology and especially AI is the ability to see things in a new way,  beyond our own imaginings. Yet these technologies don't sit alone: they are built on past experiences together  with universal themes which run through each and every one of us. With Persian Dreams, I've embraced these  new tools yet fused them with the stories of the Shahnameh, an epic poem thousands of years old, to create  a lens we might use to can see how stories told a millennia ago still resonate today, even in a contemporary  context." — Brendan Dawes
Madota, an artist duo, has scored the exhibition with experimental soundscapes that incorporate elements of zoorkhaneh, traditional athletic rituals. The verses and visuals of the Shahnameh are manifest in fortuitous oscillations between figuration and abstraction. Madota has described the exhibition as a "deep sense of history and the passage of time," "a voyage alongside the mighty heroes within the myths and legends that embody Iran's golden past," "rooted in simplicity and airiness," and "like a lucid dream."
Brendan Dawes uses generative processes involving data, machine learning, and code to create interactive installations, electronic objects, online experiences, data visualizations, motion graphics, and physical sculptures. His work often revolves around concepts of time and memory, drawing inspiration from popular culture and nature. Dawes' analytical explorations interrogate our understanding of the surrounding world.
In addition to his physical works, Dawes has also ventured into the world of NFTs, with his Genesis NFT on KnownOrigin selling to legendary collector WhaleShark within an hour. His work has been featured in exhibitions worldwide, including Big Bang Data in thirteen cities and three shows at MoMA, New York, with the latter acquiring artwork Cinema Redux for their permanent collection.
Gazelli Art House, founded in 2010 by Mila Askarova, brings a fresh perspective to Mayfair by championing artists from all corners of the globe. The gallery focuses on artists at the height of their practice, showcasing their work through a diverse programme of exhibitions and events. Gazelli Art House specializes in promoting art from Azerbaijan and its neighbors, introducing a greater understanding of the rich linguistic, religious, and historical ties that connect these areas to international audiences. In 2015, the gallery expanded to support artists working in digital art through its online platform: GAZELL.iO, comprising an online Residency programme, NFT drops and collaborations, a dedicated Project Space holding monthly exhibitions, and a permanently installed VR Library in the heart of Mayfair.
Overall, "Persian Dreams" is an exhibition that offers an exciting fusion of traditional and contemporary art forms. By drawing from an age-old epic poem and combining it with cutting-edge technology and artistic expression, Brendan Dawes has created a thought-provoking body of work that explores universal themes and resonates with audiences of all backgrounds. Art Dubai 2023 is set to be a must-see event for art enthusiasts and connoisseurs alike.
The post Brendan Dawes: Persian Dreams Art Dubai 2023 appeared first on NFT CULTURE.